Research Finds Lack of Endocrinologists in the 'Southern Belt' and Midwest -- Known High‑Risk Areas
San Francisco, Calif., November 20, 2015 -- Doximity, the leading medical network for U.S. physicians, today announced the preliminary results from a study conducted by a team of researchers lead by Dr. Armand Krikorian, endocrinologist at Advocate Christ Medical Center, on the distribution of endocrinologists as it relates to the prevalence of diabetes and obesity in America. The research underscores the country's physician distribution problem and highlights the need for targeted interventions to balance the workforce.
Endocrinology is one of the specialties expected to be particularly affected by the impending physician shortage. There are currently less than 6,000 endocrinologists in the U.S., and yet more than one-third of adults in the country are obese and nearly 30 million are living with diabetes. A significant increase in endocrinologists is needed to match the growing obesity and diabetes epidemics. While there is a general agreement that a mismatch exists, little up-to-date data is available regarding the status and geographic distribution of the endocrinology workforce.
Using proprietary geographic data from Doximity's database of all U.S. physicians and the Center for Disease Control and Prevention (CDC) 2013 reports on diabetes and obesity pervasiveness, the following was deduced:
Doximity research on physician migration patterns suggests that 43 percent of endocrinologists stay in the state where they are trained. Endocrinology training institutions follow historical population patterns and are clustered in larger cities and the northeast.
While the CDC reports a significantly higher prevalence of diabetes in the southern most states and obesity across the southeast and midwest, endocrinology support in those areas is scarce. The "Southern Belt" and midwest from North Dakota to Oklahoma are particularly in short supply of endocrinologists, and Dr. Krikorian deemed Wyoming and the Dakotas, as well as states spanning from Nevada to Kansas and Montana to Arizona, "endocrine deserts."
Krikorian proposes the specialist distribution can be improved by offering financial and practice incentives, and adding fellowship positions in underserved areas.
"Without proper resources to manage these diseases and educate the population on prevention, rates of obesity and diabetes will only continue to grow," said Dr. Krikorian. "By using this social network mapping methodology, for the first time ever we are able to get real-time look at the geographical spread of the workforce. This will help identify long term solutions, and track our efforts."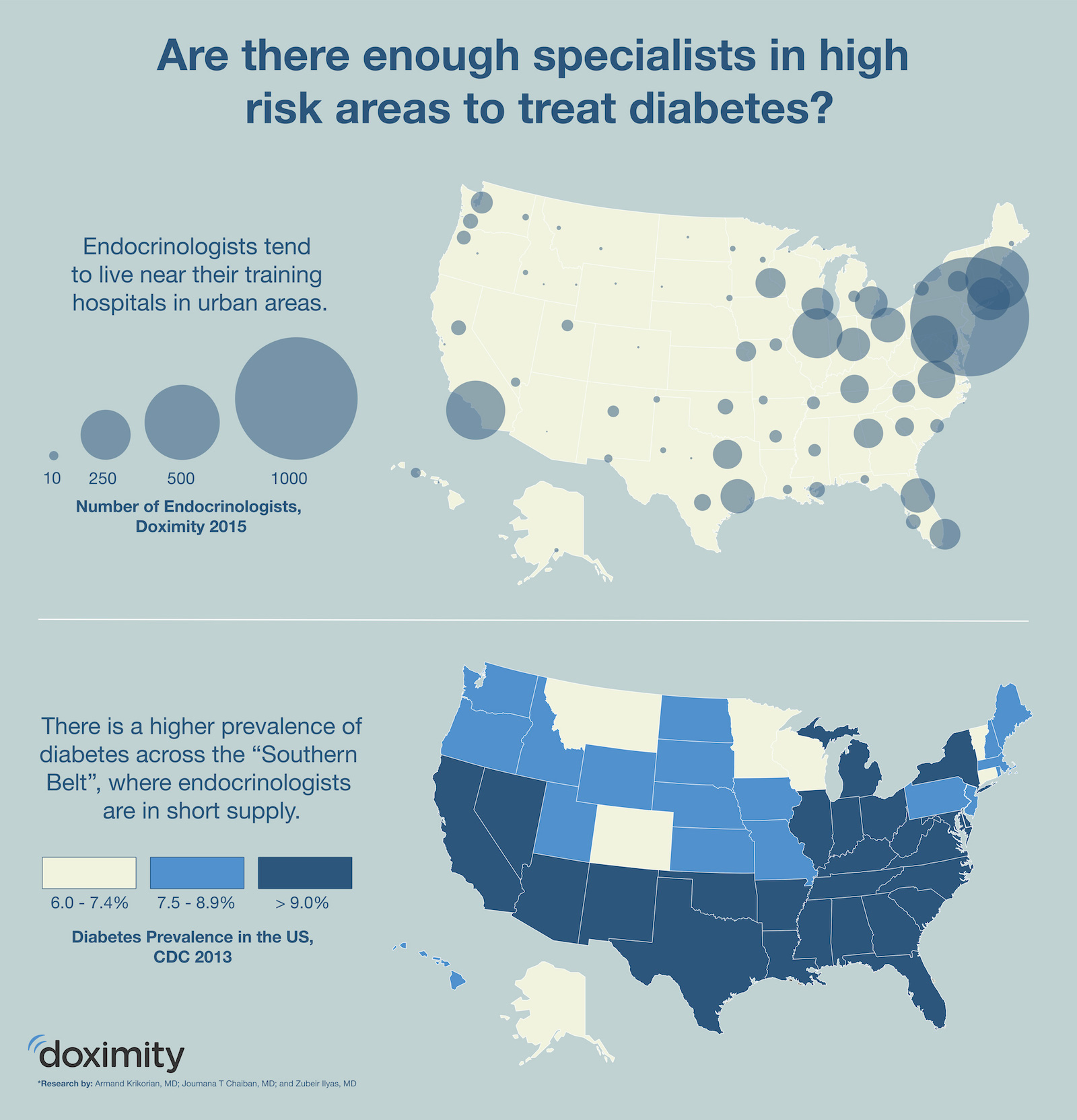 Preliminary report findings are being released in support of Diabetes Awareness Month. For more information, please contact research@doximity.com.